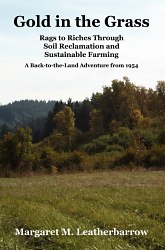 Buy Now From Amazon.com
Gold in the Grass: Rags to Riches Through Soil Reclamation and Sustainable Farming
by Margaret F. Leatherbarrow
Norton Creek Press, September 2008, 218 pages,
Suggested retail price, $9.95. ISBN 0972177051.

As World War II was ending, Alfred Leatherbarrow, a wounded Canadian veteran, and his nurse, Margaret, fell in love, married, bought their dream farm—and discovered that their crops would not grow. The farm's soil had been exhausted through years of destructive tillage practices. Faced with certain defeat, they used innovative farming techniques—including a prototype forage harvester to gather grass for silage—to restore the fertility of their farm. This early experiment in sustainable agriculture not only saved the farm in a rags-to-riches turnaround, but showed other farmers in their region how to pull out of the death spiral of decreasing fertility, yields, and income.

Gold in the Grass is a love story, a back-to-the-land adventure, and an inspirational example of how conservation tillage can restore the fertility of a used-up farm. This is a great book, and has spent far too many of its fifty years out of print.

Gold in the Grass is an example of the Norton Creek Press motto: "Most of the best books are out of print and forgotten, but we can fix that!"
Ordering Gold in the Grass
Ordering From Amazon.com
You can order from any online bookseller. We like Amazon.com the best. Buy Now From Amazon.com
Find Copies Using the AddALL Book Search Engine
Search for "Gold in the Grass"
Special-Order From Your Favorite Bookstores
While specialty books like these aren't kept on the shelves in your local bookstores, you should have no trouble special-ordering them.

---
Return to the Norton Creek Press Home Page
Sign Up for My Monthly Email Newsletter!
Full of poultrykeeping and back-to-the-land info.