Gardening Without Work: For the Aging, the Busy & the Indolent
by Ruth Stout
Norton Creek Press, August 2011, 226 pages,
Suggested retail price, $18.95. ISBN 0981928463.

Garden expert and lovable eccentric Ruth Stout once said: "At the age of 87 I grow vegetables for two people the year-round, doing all the work myself and freezing the surplus. I tend several flower beds, write a column every week, answer an awful lot of mail, do the housework and cooking-and never do any of these things after 11 o'clock in the morning!"

Her first book about her no-work gardening system, How to Have a Green Thumb Without an Aching Back, was the kind of book people can't bear to return. She reports, "A dentist in Pennsylvania and a doctor in Oregon have both written me that they keep a copy of my garden book in their waiting rooms. Or try to; the dentist has had twenty-three copies stolen, the doctor, sixteen."

Gardening Without Work is her second gardening book and is even more entertaining and instructional than the first, so hide it from your friends!

How does it work? "And now let's get down to business. The labor-saving part of my system is that I never plow, spade, sow a cover crop, harrow, hoe, cultivate, weed, water or irrigate, or spray. I use just one fertilizer (cottonseed or soybean meal), and I don't go through the tortuous business of building a compost pile. Just yesterday, under the 'Questions and Answers' in a big reputable farm paper, someone asked how to make a compost pile and the editor explained the arduous performance. After I read this I lay there on the couch and suffered because the victim's address wasn't given; there was no way I could reach him.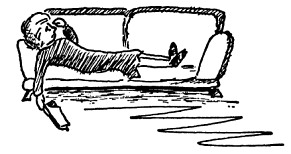 "My way is simply to keep a thick mulch of any vegetable matter that rots on both my vegetable and flower garden all year round. As it decays and enriches the soil, I add more. And I beg everyone to start with a much eight inches deep; otherwise, weeds may come through, and it would be a pity to be discouraged at the very start."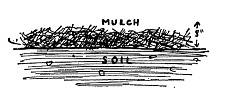 Regardless of topic, Ruth Stout's writing is always about living a joyous and independent life, and Gardening Without Work is no exception! This book is a treasure for the gardener and a delight even to the non-gardener. First published in 1961, this Norton Creek Press version is an exact reproduction of the original edition, with illustrations by Nan Stone.
Ruth Stout, who, in her teens helped temperance activist Carrie Nation smash saloon windows, could turn any aspect of life into an adventure. She may have been the only woman who both gardened in the nude and wrote a book on being a hostess (Company Coming: Six Decades of Hospitality). She died in 1980 at the age of 96.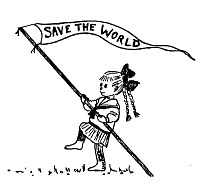 "In my early childhood, I had some kind of vague yearning to Save the World from something or other."
Gardening Without Work was first published by the Devon-Adair Company in 1961, was reprinted by The Lyons Press in 1998 (ISBN 1558216545), and again, with a new Foreword, from Norton Creek Press in 2011.
A Note From Robert Plamondon
When I was ten years old and in the grip of a passion for gardening-reading, planting seeds, and, on a good day, summoning the patience to wait for them to sprout—whenever a new issue of Organic Gardening came out, I turned first to Ruth Stout's column. She was in her eighties and I was a child, but this was no barrier. Somehow she made it clear that we were kindred spirits.
And this was Ruth's greatest talent, being a kindred spirit and a free spirit at the same time. She was innovative, practical, eccentric, and deeply entertaining, and her writing speaks across years and generations as if they weren't there. And they weren't, because when I read her work today, forty years later, it's as fresh as ever.
Another of her talents that resonated with my ten-year-old self was her passion for enjoying life today—rather than putting it on hold until the necessary laws pass or the administration changes. I found it strange that even magazines about gardening would fill pages with gloom and doom! Ruth's home-grown wisdom provided a refuge from this focus on what's happening in other people's backyards, rather than one's own. It's true that, before she learned this lesson, she smashed saloon windows with temperance activist Carrie Nation, but she later regretted this and adopted a live-and-let-live approach, one with a joyous focus on what can be done, rather than what can't, and this gives her work its ageless quality.
So imagine my surprise when I discovered that Ruth's masterpiece, Gardening Without Work, the best book ever written on the "permanent mulch" system, had been allowed to go out of print! How could this be? Fortunately, this shocking error lies within my power to correct, so I am proud to publish this exact reprint of Gardening Without Work, because Ruth Stout is at least as relevant and delightful in the twenty-first century as the twentieth. She was always ahead of her time.
Her "permanent mulch" system of gardening promises "no plowing, no hoeing, no cultivating, no weeding, no watering, and no spraying." It takes most of the work out of gardening, so that hardly anything remains except your enjoyment of your growing plants, your beautiful flowers, and your delicious harvest!
Ruth's irresistibly zestful approach kept her active and fit into her nineties, and will reshape your attitude about how much gardening (or living) can be fit into a limited amount of time and energy, a problem I didn't have when I was ten years old, but which appeals to both my inner child and outer adult today.
Robert Plamondon
Getting Your Copy of Gardening Without Work
Ordering Online
We like Amazon.com the best. Buy Gardening Without Work Now from Amazon.com
You can now buy Gardening Without Work from Barnes & Noble as well as any other online bookstore.
Special-Order From Your Favorite Bookstores
Your local bookstore will be happy to order this book for you.

Bookstores and Resellers
Gardening Without Work is distributed by Ingram Book Company.
---
More About Ruth Stout
---
Return to the Norton Creek Press Home Page
Sign Up for My Monthly Email Newsletter!
Full of poultrykeeping and back-to-the-land info.