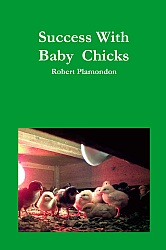 Buy Now From
Amazon.com
Success With Baby Chicks
A Complete Guide to Hatchery Selection, Mail-Order Chicks, Day-Old Chick Care, Brooding, Brooder Plans, Feeding, and Housing
by Robert Plamondon
Norton Creek Press, March, 2003. ISBN 0972177000. 155 pages. Suggested Retail price, $15.95.
Your Baby Chicks are Helpless —
But You Aren't!

You already know that the first few weeks of life are crucial. Give your chicks the care they deserve by reading the only book devoted solely to baby chicks. Other books cover the brooding period in just a few pages, but it is too important for that. Both your enjoyment and the welfare of your baby chicks depend on brooding them successfully every time.

Success With Baby Chicks covers everything you need to know about nurturing your baby chicks through the all-important brooding period, which starts when they hatch and ends weeks later when they no longer need supplemental heat. You will learn how to select a hatchery, choose a breed, set up the brooder area, and care for your adorable, helpless little baby chicks. All this and much more are covered in this easy-to-follow book.
I spent years researching and testing these techniques on my free-range farm in Oregon, and have been getting rave reviews since the book came out, from beginners and experienced poultrykeepers alike. Some highlights include an easy-to-build insulated brooder that will keep your chicks warmer while cutting your electric bill by two-thirds, how to brood chicks confidently in mid-winter, and exactly how you will go about feeding baby chicks.
Many of the techniques in this book were commonplace in our grandparents' generation, but were forgotten after the switch to factory farming. My survey of a hundred years of poultrykeeping has restored much that had been lost.
You will avoid disaster and ensure a pleasant, successful experience when you buy this book today. For best results, read it before you get your baby chicks!
I devote entire chapters to subjects that are normally dismissed in a paragraph or two, such as litter or waterers. Overhead infrared heat-lamp brooding has a chapter to itself. is discussed in detail. (Did you know that you can successfully raise chicks in the depth of winter in uninsulated brooder houses? You will find out how when you buy my book!) Waterers are given special attention. (Did you know that day-old chicks learn to drink faster if you you glass-jar waterers? The glint of the glass looks like water to them, and attracts them from a distance.)

I cover these details because, with baby chicks, details are important. The issue isn't that ignorance makes you less efficient, but that the baby chicks suffer. Read my book and this will never happen to you again.

My book is a real bargain. A good hen will lay at least $50 worth of eggs, even if you only value them at supermarket prices. If my $15.95 books saves only one pullet chick, it has repaid itself three times over! And when you use my techniques, you will do far better than this, time after time, year after year.

By now, you may be ready to skip the rest of the sales pitch and order now.
Still Not Convinced? Sign Up for My Free Newsletter While You Decide to Buy
Please take a moment and sign up for my free monthly newsletter. This popular newsletter, with nearly 6,000 subscribers at last count, is packed with timely poultry tips and news from the farm. You'll soon find out if you like my ideas enough to buy a book full of them!